I wrote a cool app for my laptop, to use it as a game-recording chess clock. The app runs in the web browser (i.e. it is a HTML file that I open in the browser to start the chess clock). It (of course) displays the time of both players, and the running clock can be switched by pressing keys on the left or right half of the keyboard. (The space bar stops both clocks.) This allows you to put the laptop beside the board, and use it as chess clock: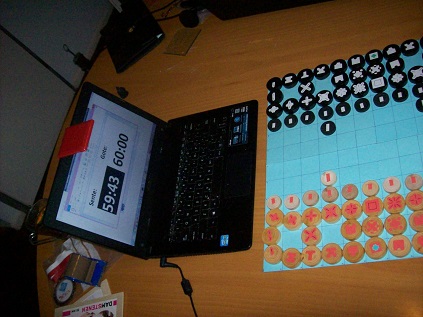 There is more, though: the clock app starts up the web-cam, and saves an image every time the clock is switched (presumably after every move). This records the entire game, and allows you to write it down later (e.g. if it was a blitz game, and you had no time for notation).
Unfortunately the webcam of my laptop was looking rather upward, so I taped as mall mirror to the lid of my laptop to aim its gaze at the chess board.
Screenshot: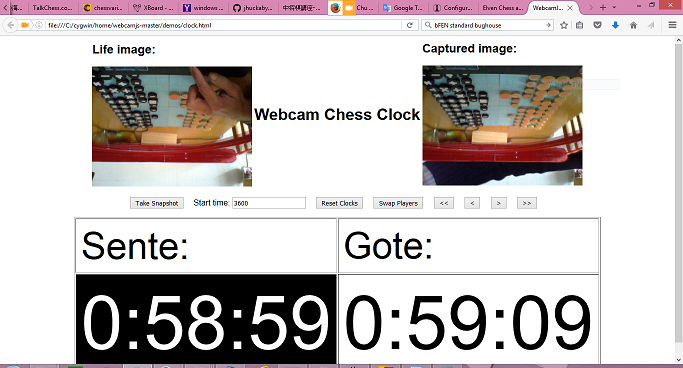 The app is based on snapshot web app I found
here
. You just have to download and unzip that, and put the following text in a file chessclock.html in the 'Demos' folder of that download:
Code: Select all
<!doctype html>

<html lang="en">
<head>
	<meta http-equiv="Content-Type" content="text/html; charset=utf-8">
	<title>WebcamJS Test Page</title>
	<style type="text/css">
		body &#123; font-family&#58; Helvetica, sans-serif; &#125;
		h2, h3 &#123; margin-top&#58;0; &#125;
		form &#123; margin-top&#58; 15px; &#125;
		form > input &#123; margin-right&#58; 15px; &#125;
	</style>
</head>
<body>
<div align="center">
<table><tr><td>
	<h2>Life image&#58;</h2>
	<div id="my_camera"></div>
</td><td cellpadding="20">
	<h1>Webcam Chess Clock</h1>
</td><td>
	<div id="results"><div style="border&#58;1px;background&#58;#cccccc;padding&#58;20px;">Your captured image will appear here...</div></div>
</td></tr></table>
	
	<!-- First, include the Webcam.js JavaScript Library -->
	<script type="text/javascript" src="../webcam.js"></script>
	
	<!-- Configure a few settings and attach camera -->
	<script language="JavaScript">
		Webcam.set&#40;&#123;
			width&#58; 320,
			height&#58; 240,
			image_format&#58; 'jpeg',
			jpeg_quality&#58; 90
		&#125;);
		Webcam.attach&#40; '#my_camera' );
	</script>
	
	<!-- A button for taking snaps -->
	<form>
		<input type=button value="Take Snapshot" onClick="take_snapshot&#40;)">
		Start time&#58; <input type=text value="3600" id="starttime">
		<input type=button value="Reset Clocks" onClick="Reset&#40;)">
		<input type=button value="Swap Players" onClick="Swap&#40;)">
		<input type=button value="<<" onClick="GoTo&#40;0&#41;">
		<input type=button value="<" onClick="GoTo&#40;-1&#41;">
		<input type=button value=">" onClick="GoTo&#40;1&#41;">
		<input type=button value=">>" onClick="GoTo&#40;9999&#41;">
	</form>

	<p id="key" style="background&#58;#8080FF;"></p>

	<table cellpadding="10" border="1"><tr>
		<td id="player1" style="font-size&#58;75px;" width="50%">Sente&#58;</td>
		<td id="player2" style="font-size&#58;74px;" width="50%">Gote&#58;</td>
	</tr><tr>
		<td id="clock1" style="font-size&#58;150px;background&#58;black;color&#58;white;"></td>
		<td id="clock2" style="font-size&#58;150px;"></td>
	</tr></table>
</div>

	<!-- Code to handle taking the snapshot and displaying it locally -->
	<script language="JavaScript">
		var images = new Array&#40;);
		var nrOfImages = 0;
		var times = new Array&#40;);
		var active = 1;
		var current = 0;
		times&#91;1&#93; = times&#91;2&#93; = 3600;
		DisplayTime&#40;1, times&#91;1&#93;);
		DisplayTime&#40;2, times&#91;2&#93;);

		window.addEventListener&#40;"keydown", KeyHit, false&#41;;

		var timer = setTimeout&#40;"Clock&#40;);", 100&#41;;

		function Display&#40;n&#41; &#123;
			document.getElementById&#40;'results').innerHTML = 
				'<h2>Here is your image&#58;</h2>' + 
				'<img src="'+images&#91;n&#93;+'"/>';
		&#125;

		function take_snapshot&#40;) &#123;
			// take snapshot and get image data
			Webcam.snap&#40; function&#40;data_uri&#41; &#123;
				// display results in page
				document.getElementById&#40;'results').innerHTML = 
					'<h2>Captured image&#58;</h2>' + 
					'<img src="'+data_uri+'"/>';
				current = nrOfImages;
				images&#91;nrOfImages++&#93; = data_uri; // save the snapshot
			&#125; );
		&#125;

		function SecToTime&#40;t&#41; &#123;
			var s = 0; if&#40;t<0&#41; &#123; s = 1; t = -t; &#125;
			var sec = t % 60; t = &#40;t - sec&#41;/60; if&#40;sec < 10&#41; sec = '0' + sec;
			var min = t % 60; t = &#40;t - min&#41;/60; if&#40;min < 10&#41; min = '0' + min;
			return s ? '-' + min + '&#58;' + sec &#58; t + '&#58;' + min + '&#58;' + sec;
		&#125;

		function DisplayTime&#40;n, t&#41; &#123;
			document.getElementById&#40;"clock" + n&#41;.innerHTML = SecToTime&#40;t&#41;;
		&#125;

		function Clock&#40;) &#123;
			if&#40;active&#41; &#123;
				var t = times&#91;active&#93;;
				times&#91;active&#93;--;
				DisplayTime&#40;active, t&#41;;
			&#125;
			timer = setTimeout&#40;"Clock&#40;);", 1000&#41;;
		&#125;

		function Switch&#40;side&#41; &#123;
			if&#40;side == active&#41; return;
			if&#40;active&#41; &#123;
				document.getElementById&#40;"clock" + active&#41;.style.color = "black";
				document.getElementById&#40;"clock" + active&#41;.style.background = "white";
				take_snapshot&#40;);
			&#125;
			active = side;
			if&#40;active&#41; &#123;
				document.getElementById&#40;"clock" + active&#41;.style.color = "white";
				document.getElementById&#40;"clock" + active&#41;.style.background = "black";
			&#125;
		&#125;

		var left = '`123456qwertyasdfghzxcvb';
		var right = "7890-=uiop&#91;&#93;jkl;'nm,./";

		function KeyHit&#40;ev&#41; &#123;
			var c = ev.key;
//			document.getElementById&#40;"key").innerHTML = c.charCodeAt&#40;0&#41;;
			if&#40;c.charCodeAt&#40;0&#41; == 92 || c == 'Backspace' || c == 'Delete') c = 'p';
			if&#40;c == 'Tab' || c == 'Escape') c = 'q';
			if&#40;c == ' ') Switch&#40;0&#41;; else
			if&#40;left.search&#40;c&#41; >= 0&#41; Switch&#40;2&#41;; else
			if&#40;right.search&#40;c&#41; >= 0&#41; Switch&#40;1&#41;;
		&#125;

		function GoTo&#40;n&#41; &#123;
			if&#40;!n&#41; current = n; else if&#40;n == 9999&#41; current = nrOfImages - 1; else current += n;
			if&#40;current < 0&#41; current = 0; else if &#40;current >= nrOfImages&#41; current = nrOfImages - 1;
			Display&#40;current&#41;;
		&#125;

		function Reset&#40;)&#123;
			var newTime = parseInt&#40;document.getElementById&#40;"starttime").value&#41;;
			times&#91;1&#93; = times&#91;2&#93; = newTime;
			Switch&#40;0&#41;; active = nrOfImages = current = 0;
			DisplayTime&#40;1, times&#91;1&#93;); DisplayTime&#40;2, times&#91;2&#93;);
		&#125;

		function Swap&#40;) &#123;
			var h = times&#91;1&#93;; times&#91;1&#93; = times&#91;2&#93;; times&#91;2&#93; = h;
			var side = active; Switch&#40;0&#41;;
			h = document.getElementById&#40;"player1").innerHTML;
			document.getElementById&#40;"player1").innerHTML = document.getElementById&#40;"player2").innerHTML;
			document.getElementById&#40;"player2").innerHTML = h;
			DisplayTime&#40;1, times&#91;1&#93;); DisplayTime&#40;2, times&#91;2&#93;);
			if&#40;side&#41; Switch&#40;3 - side&#41;; else Switch&#40;side&#41;;
		&#125;
	</script>
	
</body>
</html>