I made some progress with the p2p pseudo-engine. In particular, I can now use it to play games between two WinBoard instances running on the same machine, connecting to 'localhost' (IP address 127.0.0.1). After loading p2p.exe as first engine, I can go to the Engine Settings dialog:

There I can enter the IP address, and press the Connect button, and it will make a connection. After that, I can start playing, and if the other side accepts the challenge (presented in a GUI popup) by starting the complementary game.

It is also possible to exchange text messages, either by writing one in the Engine Settings dialog and pressing 'Send line', or leaving it empty and press 'Send line', after which a GUI popup will prompt you for a message. (Advantage of the latter is that you don't have to clear the previous line all the time.)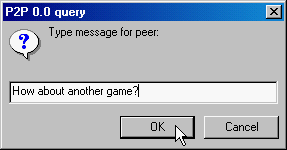 Problem is that it does not seem to work between different machines. A few seconds after pressing 'Connect' it presents a popup telling me it could not connect with the server.
Am I correct in assuming that this must be some firewall problem I do not master yet? If things work on 127.0.0.1, aren't they supposed to work for any IP address? Both computers are on my LAN, and have IP addresses like 192.168.2.x there. As far as I could see I did disable the firewalls on both. Yet, in either direction the connection is refused.
Any suggestions? I am an absolute noob where it comes to network programming...