I guess it does not really count as a Chess variant, but it does share some aspects with it (like replacement capture), and is a fun game that is trivial to learn: "Einstein wurfelt nicht". Which as most of you probably know is Klingon for "Onestone does not throw dice".
It was a bit of a challenge to make WinBoard and XBoard support this game, because it requires the players to roll a die. But fortunately WB protocol has an almost-never-used "askuser" command that engines can use to ask questions to the user through a GUI popup, and this was eminently suitable for something like this.
Nevertheless it required a change in WinBoard, which should actually be considered a bug fix: WinBoard would refuse any move in a position where the side to move has no King (except in Suicide and Giveaway, but there it insists you make any capture you can, which also is a deal breaker). This was a side effect of Atomic Chess, where it is illegal to explode your own King, and WinBoard tacitly assumed you would have a King before the move, so it figured you must have exploded it when it cannot find one after your move. I fixed that by skipping the check test when the King is not amongst the participating pieces (i.e. if no ID is defined for it).
With that fix, and some handiwork for making new piece images, this did the trick: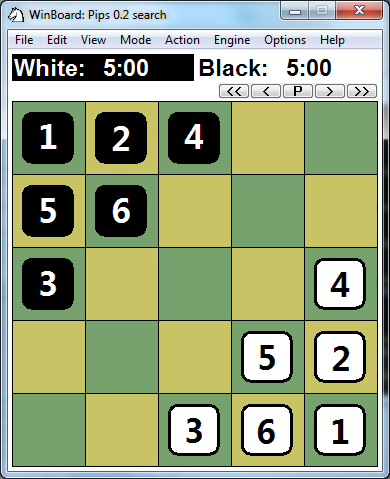 I made an engine that reports it plays "einstein" as the only variant (which is then interpreted as an engine-defined variant, as WinBoard has never heard of it). This makes WinBoard automatically switch to that variant when you start it with that engine. And the engine then tells it the participating pieces, their initial setup, and how they move. As "Einstein wuerfelt night" is a shuffle game, the engine shuffles that initial position, and in case of a comp-comp game the position given by the first engine would be sent to the second. So to the user it all looks like the GUI knows the game.
In comp-comp mode the engines roll the dice for their own move. Unfortunately this does not preclude any cheating. For human-engine mistrusty people can role their own die, and enter the result when the engine asks it (the default mode), but there is an engine setting (a checkbox in the appropriate dialog) that can also let the engine role the die for you. The engine can be made (through another checkbox) to mark the stone(s) it has to move as a result of the die role before it start thinking, so that you can know what it is thinking about.
For those that would like to try it, I put a package with the fixed WinBoard, piece images (only in size 'bulky'!) and the engine for download on my website, at
http://hgm.nubati.net/einstein.zip
.