I have put together an experimental package with WinBoard and two engines (one WB, one UCI), and some support files.
The WinBoard executable is an enhanced version from the 4.9 series. Compared to 4.9.1 (which, btw, was not released as a WinBoard binary so far), it has the following experimental features:
* Ability to use external bitmap pieces with transparancy (32bits/pixel)
* Ability to store settings of engine options in the Engine List
I packaged it with a set of anti-aliased pieces taken from XBoard. (Orthodox pieces in all 18 sizes,fairy pieces in 3 sizes.) It is pre-configured to use these (in the -pieceImageDirectory "bmaps"). All pre-configured graphics themes (in the View -> Board Themes menu) are now using these pieces in stead of the built-in bitmaps.
The Engine Settings dialogs now contain an extra button "Make Persistent", added by WinBoard (in the lower-left corner):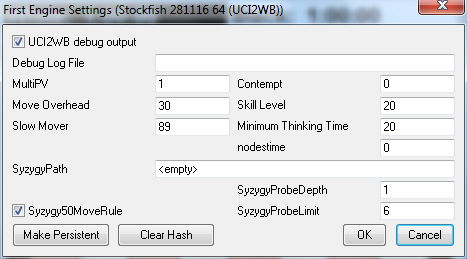 Pressing that button would store all options with non-default settings in the engine list, in a -firstOptions option it appends to the line (if ot yet present). When the Engine List is saved with the WinBoard settings, ('Save Settings on Exit'), this will carry over the modified settings to the next session.
The package is configured to use UCI2WB as default adapter for handling UCI engines, (through the -fUCI option), rather than Polyglot (which is no longer included). It is packaged as a zip file that you can unpack anywhere, rather than with an install wizard. I added some .xop files that you can drag on top of the winboard.exe icon to activate their function, and start WinBoard in the mode they specify (e.g. for conecting to FICS,or running Stockfish). I am considering to make this the default configuration in the future.
The package is configured to use a separate file for saving its settings as the standard install, so you will not affect your current stable install by trying it. It can be downloaded from
http://hgm.nubati.net/WinBoard-AA.zip
I hope some of you will want to try it out. Feedback is welcome.
Have fun.