Search found 1226 matches
by Mike S.

Thu Jun 23, 2016 1:30 pm
Replies: 53
Views: 10209
I can confirm that Wasp runs fine in Shredder Classic: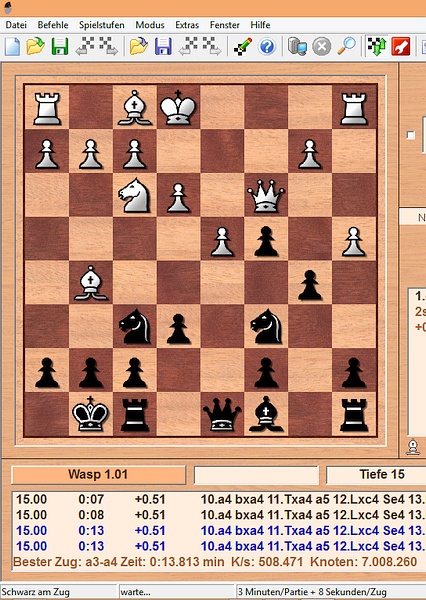 ...which means it is compliant to the UCI standard.
by Mike S.

Sat Apr 09, 2016 1:41 am
Topic: TCEC Season 9
Replies: 23
Views: 9415
We already know the result, more or less. 52% versus 48% you care seriously??

This is a problem.
by Mike S.

Fri Mar 04, 2016 4:25 pm
Replies: 1
Views: 728
In 2008, I created an experimental version of the Balanced-16.ctg to avoid the Sicilian at all cost, but still to play 1.e4 with white. This was a tricky task which caused me some headache. It was intended for the Playchess engine room fighters, who were sick from these ultra-tuned Najdorf lines in ...
by Mike S.

Fri Mar 04, 2016 3:47 pm
Replies: 1
Views: 728
The opening books under the following link each, were based on specific, carefully compiled (small) databases with the design goals: - more variety: the frequency of e.g. Sicilian or Ruy Lopez is reduced - only top quality games http://members.aon.at/computerschach/links.htm#downloads In Fritz, plea...
by Mike S.

Tue Feb 23, 2016 1:36 am
Replies: 43
Views: 14137
That is realistic.
3.150 should be right.
Bitte Frank, was ein 08/15-GM irgendwann im Jahre Schnee in einem Interview gemeint hat soll irgendeine Einschätzung relevant begründen? Shredder 12? Auf welcher Hardware...? Also wirklich, das ist keine vernünftige Grundlage für irgendeine Zahl.
by Mike S.

Tue Feb 23, 2016 1:11 am
Replies: 43
Views: 14137
You fail plenty by NOT giving any significant information as for what your method is.
by Mike S.

Tue Feb 23, 2016 12:52 am
Topic: A tribute to Arena GUI.
Replies: 21
Views: 6854
do you know the command in arena which lets you set the value of pieces ? This can never be a general interface-controlled feature because only a few engines support that, in their individual engine options. If available, it would have to be to set there. As for Arena generally, I like it much too!...
by Mike S.

Thu Feb 18, 2016 6:15 pm
Replies: 6
Views: 2414
Dan Cooper wrote:Unfortunately, the author hasn't updated in a couple of years.
I don't know what we should demand from an update, except cosmetics like more sounds, more board/piece graphics and such insignificant stuff which is not necessary. The core mechanics seem perfect.
by Mike S.

Thu Feb 18, 2016 12:53 am
Replies: 54
Views: 8834
This problem is familiar to me and it indeed seems being a flaw. If an engine is run in MultiPV(x) mode, it is supposed to deliever x variations sorted by eval, under all circumstances (except the number of legal moves is smaller). E.g. if I set MultiPV(3) but I get only one variation, something is ...
by Mike S.

Tue Feb 16, 2016 3:16 pm
Replies: 6
Views: 2414
Some examples of the pieces & baord designs available in Chess Hero: